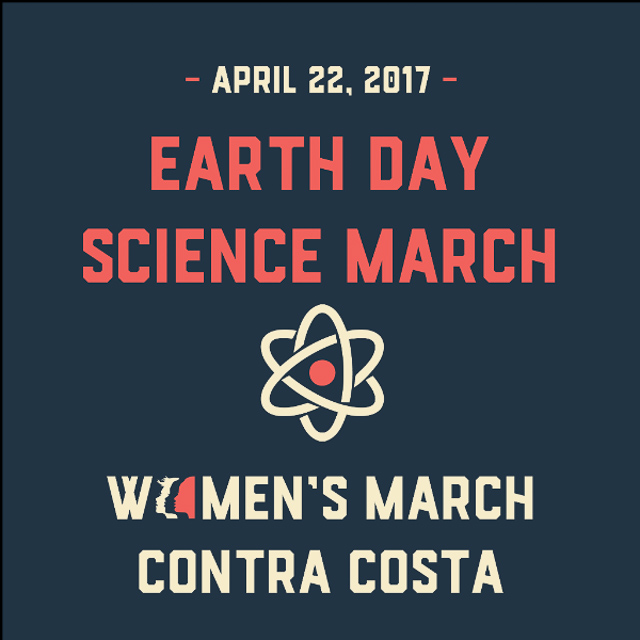 Civic Park
1375 Civic Dr, Walnut Creek
Saturday, April 22nd, 2017
10:00am – 1:00pm | Free

Together on Earth Day we will rally to educate and raise awareness about our united responsibility to protect the global environment for current and future generations. As a nonpartisan group, we march to support science, because we value science and facts do matter. We will stand together against policies that silence, mischaracterize or restrict science. We oppose threats to eliminate public environmental agencies and censor scientists and instead advocate for scientific evidence-based policy decisions.

We invite all supporters of science, environmental protections and environmental justice to join us. Let's work together! Let's march together! Again.
​
This is a peaceful nonpartisan march.

Education! Science presentations! Interactive events! Fun family activities!


10:00 AM Booths
10:30 AM Rally/Speakers
11:00 AM March
11:30 AM – 1:00 PM Free Children's Activities & Environmental Fair
12:00 PM Children's Science Show
1:00 PM Event ends

Kids can take part in a big solar-powered Lego build, make an animated movie, build paper rockets, see a chemistry show and more!
Bring water and snacks. Due to the size of the crowd, large backpacks, lawn chairs, and wagons should be left at home.
Bring blankets to sit on if you would like to sit during the science show.
Bring posters that show who you are and express your sentiments. If you bring a sign, leave with your sign.
Keep our park clean.