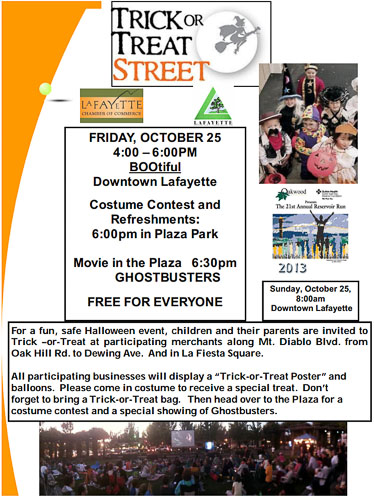 Downtown Lafayette
Friday, October 25th, 2013
4:00pm – 6:00pm | Free

FRIDAY, OCTOBER 25
4:00 – 6:00PM
BOOtiful
Downtown Lafayette

Costume Contest and
Refreshments:
6:00pm in Plaza Park

Movie in the Plaza 6:30pm
GHOSTBUSTERS

FREE FOR EVERYONE
For a fun, safe Halloween event, children and their parents are invited to
Trick –or-Treat at participating merchants along Mt. Diablo Blvd. from
Oak Hill Rd. to Dewing Ave. And in La Fiesta Square.

All participating businesses will display a "Trick-or-Treat Poster" and
balloons. Please come in costume to receive a special treat. Don't
forget to bring a Trick-or-Treat bag. Then head over to the Plaza for a
costume contest and a special showing of Ghostbusters.