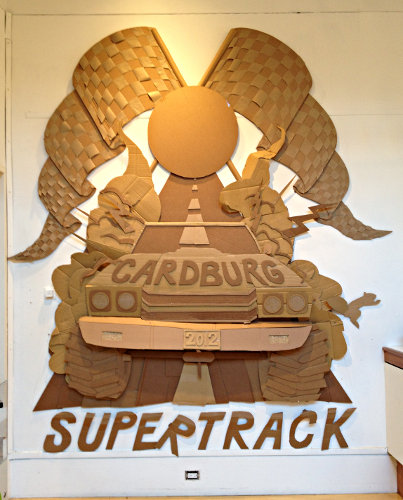 The Bedford Gallery at the Lesher Center for the Arts in downtown Walnut Creek is hosting a new exhibition by the Cardboard Institue of Technology (CIT) now through August 12th. From the Bedford Gallery website:
This summer Bedford Gallery welcomes the exciting new exhibition Cardburg 2012: The Super Track! The Cardboard Institute of Technology (C.I.T.) has deconstructed the spectacle of car racing, challenging mainstream notions of competition and cooperation. C.I.T. invites you to take part in their unique brand of racing: form a pit crew, race in teams, and sabotage your opponents.

Bedford Curator Carrie Lederer comments that, "C.I.T. projects always incorporate aspects of the world we live in—from pop culture, history and myth to contemporary life. The artists are entrepreneurial in spirit, and bring an array of skills and talents to their projects, using high-tech/low-tech hybrids as a motto for construction. Each installation is a unique, humorous and thoughtful statement about our local and global community, and our attraction to large-scale, exhilarating public events."

The exibition will include several open makes, during which visitors can come to the gallery and build their own cardboard car. We hope you will join us as we turn up the heat and explore the high-octane world of monster truck racing.
Check out more of the amazing cardboard art below: