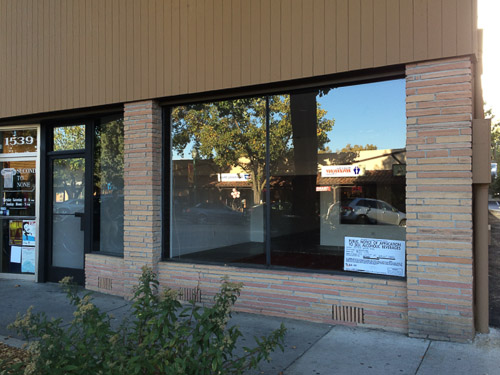 1545 Locust St, Walnut Creek
A new wine tasting store called Buon Vino will be opening in downtown Walnut Creek on Locust St. Back in June a cafe was planning to open up but now the Public Notice to Sell Alcoholic Beverages sign is up so this looks more promising.
From their Facebook page:
Buon Vino exists to change the way Americans enjoy wine.

We believe that wine should be approachable, fun, and of course,
delicious!

In our retail tasting room, you'll be able to try outstanding wines
from the best regions of California, including world-famous Napa
Valley and Sonoma. 

Try a splash before you buy it, and we will fill up your bottles
right then and there! Like what you taste? Bring the bottles
back to be recycled and save money by not buying new bottles!
It's green, both in your pocket and for the environment.

We also will offer a wide selection of artisan goods from Italy
as well as here in Northern California. The products we'll offer
will pair perfectly with Buon Vino.

Want to learn more about wine? Schedule a private, guided
tasting and learn how sommeliers and wine professionals
properly evaluate wine. You will leave the tasting appreciating
wine and food more than you thought you could!

Finally, work with Buon Vino to design your own wine label!
Whether you're a business looking to give your clients a unique
gift, looking to give newlyweds a gift that will commemorate
their special day, or for your own wedding/anniversary!
You design the label from start to finish, and we print and label
the bottles for you!

While we work on opening our retail room, inquiries can be
sent to the owner, Dan, at danbatlin@gmail.com.

We can't wait to serve you! Cheers!