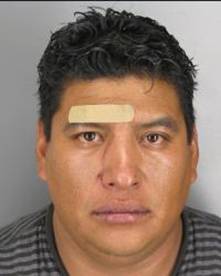 From a Walnut Creek Police advisory:
On 6/09/12 at approx. 0054 hours, FRANCISCO HERNANDEZ-MURRIETA attacked an adult female victim, unknown to HERNANDEZ-MURRIETA, as she walked home through a secluded city park adjacent to the Iron Horse Trail. HERNANDEZ-MURRIETA grabbed the VICTIM from behind, placing his hand over the VICTIM's mouth. He took her to the ground, where he rolled her over onto her back. HERNANDEZ-MURRIETA straddled and restrained the VICTIM while groping her. HERNANDEZ-MURRIETA tried to silence the VICTIM by placing his hand in her mouth. The VICTIM then bit HERNANDEZ-MURRIETA's hand and punched him several times in the face. HERNANDEZ-MURRIETA fled on foot on the Iron Horse Trail. He was intercepted by a WCPD officer responding to the victim's call to 911. HERNANDEZ-MURRIETA was arrested for assault and is currently in-custody at County Jail. The Contra Costa County District Attorney reviewed the investigation and has since filed two felony counts against HERNANDEZ-MURRIETA for violating PC 220(a), Assault to Commit Rape and PC 237(a), False Imprisonment by Violence.

If anyone has information regarding this attack or other incidents potentially involving the same suspect, please contact DET. GREG LEONARD at (925) 256-3518 orleonard@walnutcreekpd.com, with any information.