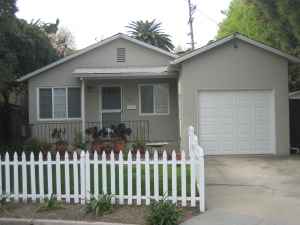 This house rental is located at Almond Ave at N. California St in the Almond-Shuey neighborhood of Walnut Creek.
The Craigslist ad says:
Great Downtown Walnut Creek location, walk everywhere!
2 bedroom, 1 bath with 1 car garage, washer/dryer, gardener, hardwood floors, fenced yard and great closets. This is one of the cutest neighborhoods in WC. Quiet and view of Mt. Diablo. 850 sq ft. – 1850 Deposit required, pets considered.
Not as nice as the previous Almond/Shuey rental, but significantly cheaper at $1850/month, and a great location.