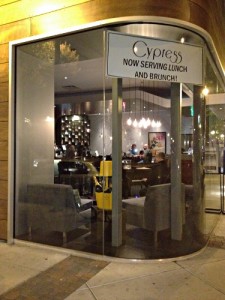 Previously I posted a snapshot of the new Cypress restaurant, replacing Vesu which closed in April. Pursuitist recently reviewed the building and interior that Vesu used to occupy, before going under in April, now replaced by Cypress. The architecture and interior shots are quite amazing such that's it's hard to believe it closed so quickly.
Two things about the review that stood out are:
The Vesu Restaurant was designed by Arcsine Architecture and Bellusci Design and is located in the center of a small town called Walnut Creek near San Francisco, California.
I'd hardly consider Walnut Creek, with a population over 60,000 with Nordstroms and Macy's a few blocks away a small town.
Also, take a look at the last photo in the review to see "VESU" embedded in the countertops. That seems like such a shame considering how quickly it closed. I wonder if Cypress was able to reuse them?
Diablo Magazine reported that Cypress was opened by Rick Delamain, who worked at Le Virage, a French restaurant in Walnut Creek for 18 years. Longtime Walnut Creek residents will remember Le Virage as it was considered quite the restaurant back in the day, but recent residents will also know Le Virage, for a different reason. Does anyone care to take a guess why?