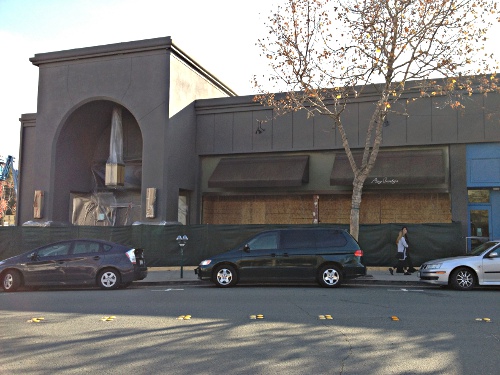 Thanks to a commenter on the La Boulange post pointing out that the place next door will be called The Corners Tavern, which is rather appropriate considering Walnut Creek used to be known as "The Corners". According to a press release it's supposed to open this month (opening in March, see update below) but I find that hard to believe with all the construction going on the other day. It goes on to note:
The Corners Tavern is a partnership between Moana Restaurant Group (a successful restaurant management company that operates 18 restaurants throughout the West Coast and Mexico including Piatti in Danville and Paragon in Berkeley and San Francisco) and The Stock & Bones Company (Mitchell & Steven Rosenthal and Doug Washington, owners and operators of the critically acclaimed Town Hall, Salt House and Anchor and Hope in San Francisco as well as Irving Street Kitchen in Portland).
The Corners Tavern will be a contemporary gastropub featuring approachable and soulful American fare with a menu developed by the Rosenthal's. The menu will be complemented by a thoughtful beverage program designed by Nicole Burke (Wine Director for Stock & Bones Company and named one of the San Francisco Chronicle's Bay Area's "Up and Coming Sommeliers") that will boast 30 craft beers on tap, hand‐crafted artisan cocktails and a selective list of 20 small producer wines on tap. Heading up daily operations will be David O'Malley (former proprietor of Bacar restaurant in San Francisco and Operations Director of Kimpton and W Hotels).
This will be another great culinary addition for this end of Broadway Plaza. I look forward to seeing what it's like.
Update: The Corners Tavern will open in March according to one commenter involved with the restaurant:
Corners Tavern will open at the beginning of March. Our opening got pushed back because the changes we're making to the space became much more extensive than originally thought. We're looking forward to getting open and joining the neighborhood…