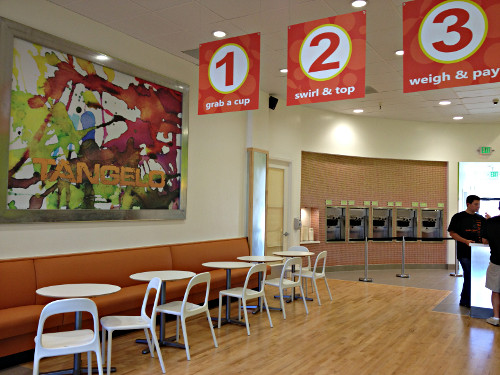 The frozen yogurt store Tangelo opened this past Friday in the Rheem Shopping Center in Moraga, and it was packed with people interested in checking out Moraga's only frozen yogurt place. I tried the chocolate, peanut butter and vanilla and it was yummy, especially on a hot day.
From their Facbook page:
Flavors on Tap
Machine 1 – Tangelo Tart / Wild Strawberry (swirl to make Strawberry Parfait)
Machine 2 – Cable Car Chocolate / Peanut Butter (swirl to make Peanut Butter Cup)
Machine 3 – Vanilla NSA / Orange Sorbet (swirl to make Dreamsicle)
Machine 4 – Cookies 'N Cream / Cake Batter (swirl to make Cookie Monster)
Machine 5 – Sweet Coconut / Cinnamon Bun (swirl to make Coconut Cinnamon Bun)

With over 35 topping selections, the combinations are endless! Come on down and create your ultimate dessert!
The frozen yogurt and toppings are 45 cents per ounce. Tangelo is located at 384 Park St. next to Lamorinda Pizza in Moraga.