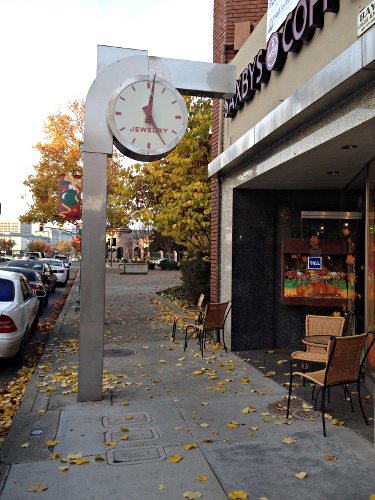 If you ever strolled down N. Main St. in Walnut Creek, this clock probably caught your eye, and newcomers might wonder what a jewelery clock is doing across from a coffee shop. According to Brad Rovanpera's book – "Walnut Creek, An Illustrated History":
On Aug. 27, 1947, Pete Rinehart opened a jewelry and gift shop at 1632 Main St, across from the El Rey Theatre, In fornt of his store he placed an Art Moderne-style clock that remained Rinehart's trademark until the store closed in March 2007.  The clock was a fixture for nearly 60 years and was in many of the photos taken of the Walnut Festival Parades.  Pete Rinehart built and owned the whole building.
Thanks goes out to the Walnut Creek Historical Society for this information.
In the end a Saxby coffee shop ended up taking over Rinehart's Jewlery store. Apparently the Rineharts still own the building and the son rents it out. And the clock remains as a reminder of Walnut Creek past.