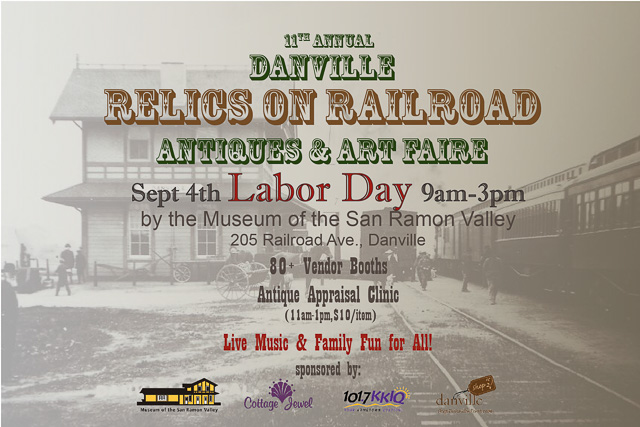 Relics on Railroad Antiques & Art Faire:
Museum of the San Ramon Valley
205 Railroad Ave, Danville
Monday, September 4th, 2017
9:00am – 3:00pm | Free

The 11th Annual Relics on Railroad is taking place on Labor Day Monday, September 4 from 9:00am to 3:00pm to benefit the Museum of the San Ramon Valley at 205 Railroad Ave.  Danville's annual market prides itself on 50+ vendors of visiting vintage dealers, artisans, antique aficionados, flea market diggers and clothing retailers plus live music and Appraisal Clinic.  There are several free parking lots on both sides of Railroad Ave.  One is centrally located on Railroad at the corner of 100 W. Prospect Ave. right next to Marcia Harmon's Cottage Jewel Antique Shop and diagonally across from the San Ramon Valley Museum. You will not want to miss her jewel box of a shop and her 17th year anniversary sale celebration!

The Appraisal Clinic will be open in the Museum from 11:00am — 2:00pm.  Verbal estimates of value for your treasures are $10 per item [cash only, please] with the money and time of appraisers donated to the Museum.  Anita Venezia of Venezia Antiques & Estate Liquidations  and Barbara Britt, The Glass Lady will be joined by Joe Silva noted authority on historic documents, autographs, old California, the gold rush and pocket watches.  They may be joined by additional appraisers.  Items of antique, vintage and collectible interest also include glass, porcelain, pottery, furniture, paintings, sculpture, civil war, silver, jewelry, war memorabilia & militaria, photographs and more.  Please feel free to bring anything.  Our appraisers love a challenge.

Be sure to visit the Concierge Booth to obtain a free map of the downtown area to help you discover over 30 locations for history, wine tasting, shopping, dining and the Eugene O'Neill Foundation.  You can have the time of your life by living locally at Relics on Railroad 2017.