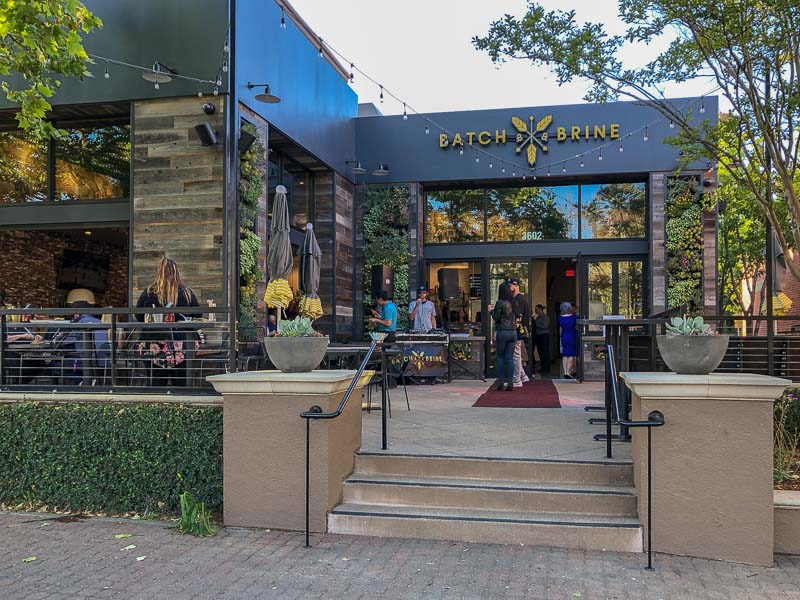 3602 Mt. Diablo Blvd, Lafayette
Batch & Brine, a new restaurant opening in Lafayette on June 4th is all ready and yesterday there was a preview to see how everything came out. As you can see in the above photo the outside is wrapped in reclaimed wood interspersed among living walls with indigenous succulents making this one of the nicest looking restaurants in the area. The inside is equally as impressive with giant windows that open butterfly-style allowing both light and fresh air in. The outside has a long fire pit and plenty of tables in front and to the sides. Don't forget to check out the photos below for a closer look. The food I tried tasted great and am looking forward to trying the house-made pastrami sandwich!
Batch & Brine will be open seven days a week from 11 a.m. to 10 p.m. for lunch and dinner; brunch is served on Saturday and Sunday from 10 a.m. to 3 p.m. Check out their gallery here.
From a press release:
With a menu rooted in the family's passion for bold flavors and seasonal food, the ownership team and Executive Chef Suarez, an alum of the French Culinary Institute and former culinary director for Rosa Mexicano, are expanding the definition of the classic burger at Batch & Brine, and also offering hearty appetizers, salads, sliders, loaded fries, and weekend brunch. At Batch & Brine, burgers are the main event, but these burgers are globally inspired and take the concept of a hand-held meal to a new level. On the opening menu, guests will find nine, crave-worthy burger creations blending flavors and ingredients that celebrate the family's Mediterranean and New Mexican heritage. Must-try burgers include patriarch Zafer Abu-Ghaben's Kufta Burger and Falafel Burger, Chef Suarez's Steak au Poivre Burger, and Victor Ghaben's Hatch Chile Burger, featuring the one-of-a-kind "Hatch" chile, which is grown only in New Mexico's Hatch Valley. Other staples on the menu include pickle-brined chicken and house-made pastrami sandwiches; kale, beet, cauliflower or grilled ribeye salads; the Shaved Ribeye Bao Slider; and a French fry selection topped with duck confit, Hatch chile verde, or pastrami and cheese.
Plenty more photos after the jump…