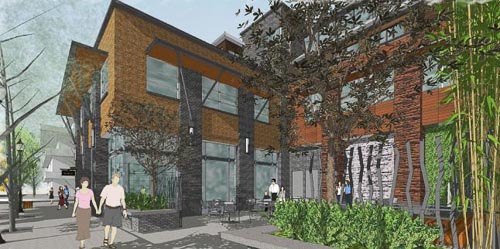 The apartment and retail complex at 1500 N. California Blvd. and Bonanza St. in downtown Walnut Creek is expected to be finished in 2015 and I had a chance to check out some renderings and learn more about the development. The Environmental Impact Report (EIR) was published in March and can be accessed here.
There will be 18,000 square feet of retail space on the ground floor and 141 apartment rentals (not condos) on the upper floors. One interesting aspect of the complex is the addition of a public park on the Locust St. side right across from Hubcaps Diner. Although it's not exactly huge at under 2,000 square feet, anyone is free to use it, not just people living there which should be nice. It will include a seating area, water features and bamboo. The architecture will include brick, stone, steel, and glass.
Plans are underway to bring in restaurants and a cafe to the Bonanza side of the development with service businesses on the N. California side. The corner of Locust and Bonanza will be a great spot for whoever ends up there. Which cafe would you most like to see open up in this new complex? (Please not another Starbucks, there are so many within walking distance already).
Current view down Bonanza Street: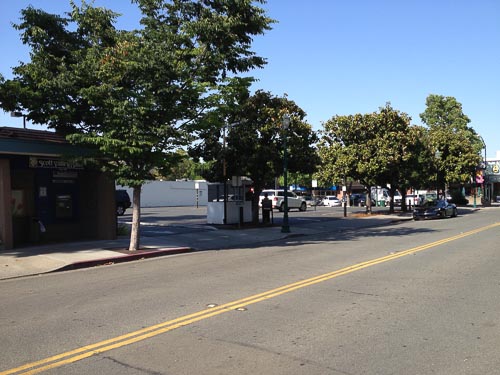 Check out more renderings after the jump…
Planned Bonanza St. view: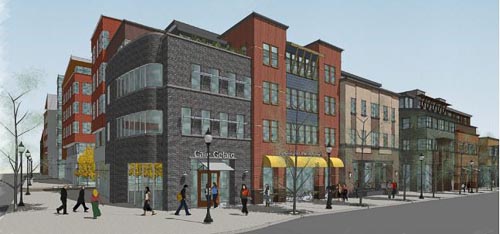 N. California Blvd. view: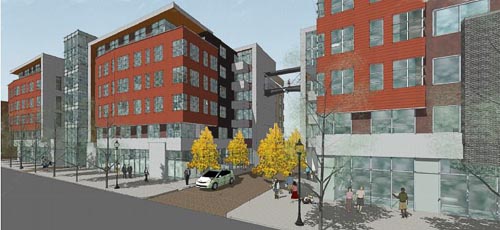 As far as location goes it doesn't get much better than this. Right in the heart of downtown, the Lesher Center for the Arts is right next door, and BART is a 15 minute walk.