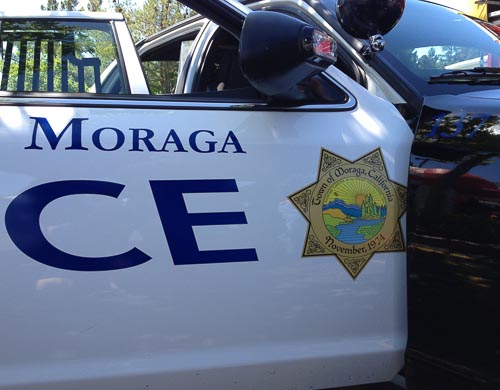 From the Moraga Police Department:
On Monday, August 6, 2013, at around 6:10 am, Moraga PD officers responded to a reported stolen vehicle report on Camino Peral. A responding officer driving southbound on Moraga Rd. saw the vehicle, a 1997 Honda Civic, driving northbound on Moraga Rd. near the Commons Park. When the officer made a u-turn to stop the stolen vehicle, it sped away. As the officer was still trying to catch up to the fleeing vehicle, it lost control and crashed into a wall at the northeast corner of the Moraga Rd.-Rheem Blvd. intersection. As the officer approached, he saw the suspect kick out the driver door window, exit the vehicle and run from the scene. The suspect ran into the 24 Hour Fitness on Rheem Blvd. and then ran out a back door. The suspect then ran into the Carroll Ranch neighborhood and entered a home on Dolores Ct. through an open garage door. The suspect then entered an occupied child's bedroom and tried to hide before going back into the garage to hide. The suspect was confronted by the child's father in the garage and then fled the area. Neither the child nor the father were assaulted or threatened in any way.

The suspect is described as a white male adult, in his mid-twenties, with a shaved head and no facial hair, approximately 5'10" tall with medium build, last seen wearing a white tee shirt and baggy jeans.

Officers from Orinda and Lafayette responded to help search the area and a K-9 from CCCSO also responded, but the suspect was not located.

Property was found in the recovered stolen vehicle, indicating the suspect was in the area burglarizing vehicles.

Anyone with information is encouraged to contact the Moraga Police Department at 925-888-7055 ext. 0.