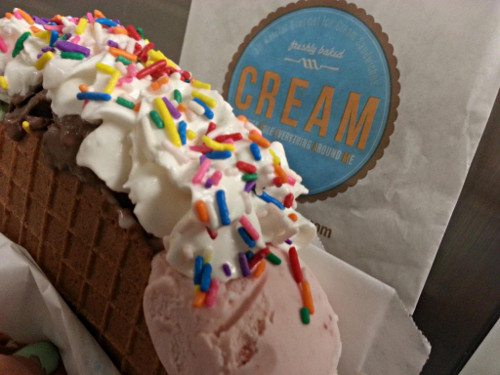 I've recently learned that CREAM (Cookies Rule Everything Around Me) will be opening a new location in downtown Walnut Creek this summer. Known for their ice cream cookie sandwiches, CREAM has quite a following in Berkeley. I can't wait to try this place out! Has anyone tried this before?
From their website:
When we opened CREAM, we embarked on our business venture as a family. We based our business model on four principles. We decided to adhere to them throughout our introduction of this great concept.

The four guiding principles can be summarized as follows; Our first principle was premium products. Top notch Sandwiches made with superior ingredients. The second was to keep our product affordable, thus shattering the old business rule of high quality equals high prices. Third, we wanted every consumer to leave delighted not only with our product, but with our service. Our employees treat every customer with unconditional respect and gratitude. The fourth and final principle we cemented into our business model is our atmosphere. We wanted to have a very relaxed and fun environment.
Looks like downtown Walnut Creek is becoming ice cream central. San Francisco Creamery and Gelato Naia are here with Lottie's Creamery opening soon and now CREAM. Stay tuned for updates on location and construction progress.