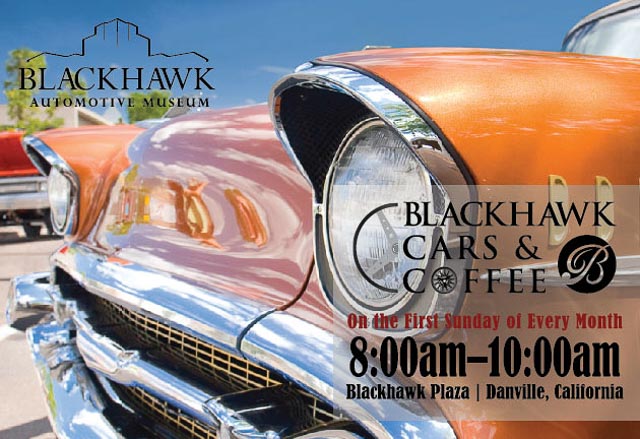 Blackhawk Museum
3700 Blackhawk Plaza Circle, Danville
Sunday, March 1st, 2015
8:00am – 10:00am | Free

The Blackhawk Museum's F1rst Sunday 'Cars & Coffee' will be this coming Sunday. March 1. Please join us for the Museum's monthly car enthusiasts gathering. Officially starting at 8:00 a.m. and going through 10:00 a.m. we'll be greeting car owners and car aficionados with coffee at the Blackhawk Museum Plaza. We hope that you will be able to join us with your favorite ride, or just come and enjoy all the cars that will be on display.

The Blackhawk Automotive Museum opens an hour earlier, at 9 a.m. on Cars & Coffee mornings, and we hope that you will stay and enjoy the Museum along with the stores & restaurants in the Plaza. The Museum's new upper gallery exhibition 'The Spirit of the Old West' is now open for guests to enjoy.

The first 400 participating car owners will receive an admission ticket good for two guests to the Museum. These are provided courtesy of our 'Cars & Coffee' supporting partners; AIG Private Client Group, Cole European Jaguar Land Rover, Sonoma Raceway, Goodguys, and our long time Museum sponsor Meguiar's. Scott's, the Museum's exclusive catering partner, will provide complimentary coffee.