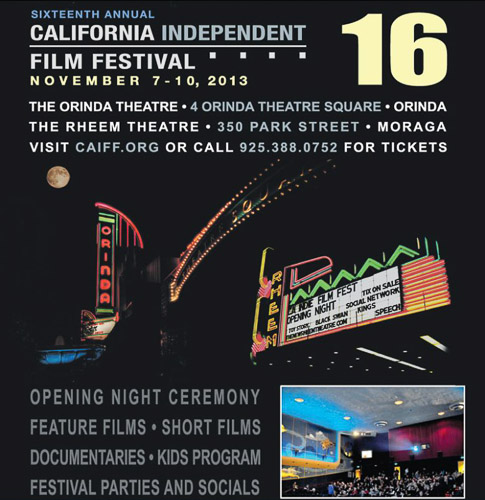 California Independent Film Festival:
Orinda Theatre & New Rheem Theatre
4 Orinda Theatre Square, Orinda & 350 Park St, Moraga
Thursday, November 7th – Sunday, November 10th, 2013

The 15th Annual California Independent Film Festival will be held for the third year in a row at The New Rheem Theatre in Moraga, CA. Films will also be shown at the Orinda Theatre, providing attendees additional opportunities to screen films and even more ways to experience the festival.

The California Independent Film Festival Association (CAIFFA) has begun announcing this year's impressive line-up of films (some creating Oscar-buzz), a wide variety of foreign films, documentaries, short films and children's programs.

Films opening this year's festival include Body Complete, which has been screened at 13 film festivals world-wide and is an enthralling thriller taking a journey through war-torn Bosnia. In synopsis, Nicole is a journalist working for a TV station in Vienna, Austria. In 2004, she travels to Bosnia to film a report about Edina, a young woman who has gone missing. Edina wanted to bury her Muslim father in Bosnia, whose remains were discovered in a mass grave. Nicole`s search takes her to Morovci, the place where Edina was last seen. Morovca, located in Republika Srpska, is a nation created after the war. It was a major site of ethnic cleansing, in which thousands of Muslim civilians perished. Nicole`s tenacious inquiries put her increasingly at risk. The fanatic nationalism and open aggression all around her make Nicole`s search a life-threatening mission.