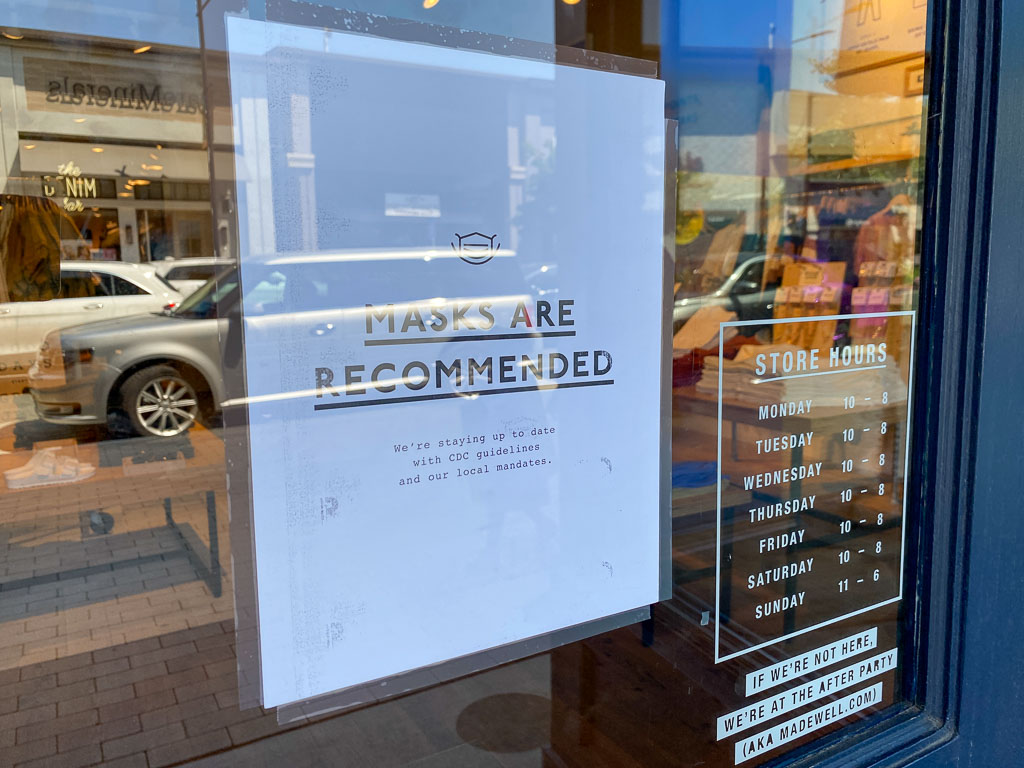 This photo of a "MASKS ARE RECOMMENDED (We're staying up to date with CDC guidelines and our local mandates)" sign at a store in downtown Walnut Creek was taken just over the weekend and it's already out of data as Contra Costa Health Services issued a mandate yesterday requiring mask wearing indoors. Although unfortunate, this makes more sense than their previous mandate "recommending" indoor mask wearing.
From the PR:
Vaccination continues to protect against severe COVID-19 illness, but with the COVID-19 Delta variant now infecting a small percentage of vaccinated people as well as many unvaccinated people, eight Bay Area health officers have issued health orders requiring masks indoors in public places.

The orders require all individuals, regardless of vaccination status, to wear face coverings when indoors in public settings, with limited exceptions, starting at 12:01 a.m. on Tuesday, August 3rd.

Vaccines remain the most powerful tool in the fight against COVID-19, including the Delta variant. Nonetheless, the Delta variant is infecting a small percentage of the vaccinated in the Bay Area — who still remain strongly protected against severe illness, hospitalization, and death. In those instances of infection in a vaccinated person, a face covering prevents further spread. Bay Area health officials urge all unvaccinated residents 12 and older to get vaccinated as soon as possible.