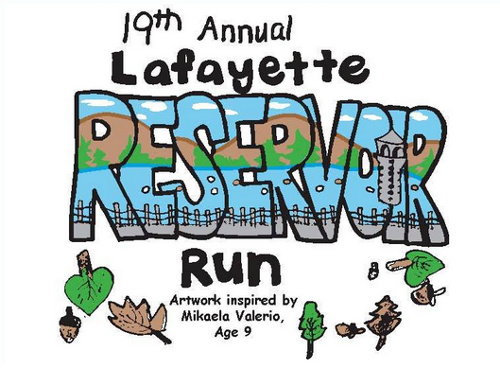 Don't forget the Lafayette Reservoir Run is this Sunday. From their website:
The Chamber of Commerce and the City of Lafayette are co-sponsors of the Run which is traditionally held on the last Sunday in October. Beneficiaries of the event are the local schools and the services and programs of the Chamber.

The Lafayette Reservoir Run is the city's most popular "family affair", involving kids, parents, grandparents, and hundreds of serious runners from throughout the Bay Area. 2200-2500 participants compete in a 10k or 5k Certified Runs and a 2 mile run/walk for fun through the heart of the downtown, around the reservoir and back. Sprinters, walkers, the "stroller brigade" and many of Lafayette's top four legged residents share the streets on that festive Sunday morning.
Sunday, October 30, 2011
Presented By: Lafayette Chamber of Commerce & City of Lafayette
Event Date: Sunday, October 30, 2011
Start Location: Mt. Diablo Blvd. between First St. & Moraga Rd.
Registration Opens: 6:30am
Staggered Start Times: 2mi run/walk 8:00am (New Start Time), 5k Certified Run 8:30am , 10k Certified Run 8:45 am

Race Descriptions:

5k Certified Race – flat, "chip" timed course, runners only (NO Dogs or Baby Strollers).
10k Certified Race – hilly, "chip" timed course around the reservoir, Dogs on Leash & Baby Strollers OK.
2 Miles Run/Walk for Fun – No Timing – Fun Run ONLY, Dogs on Leash & Baby Strollers OK

Race Course: 10k Moraga Road west to El Nido Ranch Road, around the Lafayette Reservoir and back to Moraga Road. 5k or 2 mile DO NOT go around the Lafayette Reservoir.

Race Certified By: The Athletic Council/Road Runners of America (TAC/RRCA)

Registration:

Adult registration fee – $30; Race Day fee-$35
Elementary school fee – $22; Race Day fee-$27

Pancake Breakfast: Come for the run – stay for the pancakes. Stick a $5 bill in your shoe and make your tummy happy as we fire up the grill serving up your favorites.

Divisions: 10K, 5K or 2 Mile Men's and Women's: Elementary, Intermediate, High School, Adult

Proceeds: Shared by the Lafayette Schools and the Lafayette Chamber of Commerce. In addition, 10% of your registration fee can be designated to the Lafayette school of your choice.

T-Shirts: 100% natural long sleeve cotton T-shirt for each registrant while supplies last; available prior to race day at the Chamber office upon presentation of race bib or on race day. We do not mail T-shirts.

Run Numbers: Available at Chamber office or mailed to pre-entries who have included a self-addressed stamped envelope; given to day-of-race-entries upon registration at the event.

Awards: Medals for first three finishers in each of 16 running divisions. Certificates of Completion for each runner 12 & under.

Vendors: Complimentary snacks and beverages following the race.