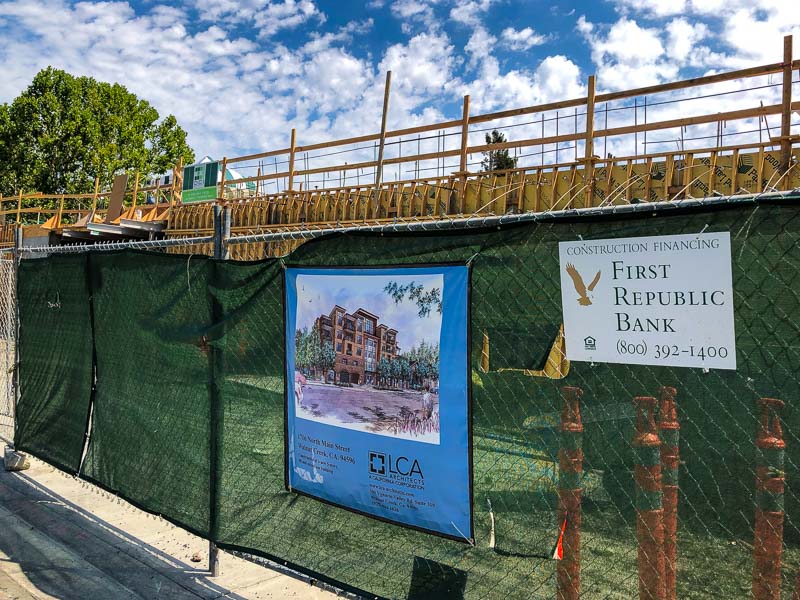 1716 N. Main St, Walnut Creek
1716 Lofts, a new mixed-use development with 48 apartments over 2,500 square feet of retail space is going up next to the brick J. Rockcliff Realtors in downtown Walnut Creek. Check out the renderings on the architect website here.
From the architect website:
Part of the North Main/Ygnacio Valley Specific Plan calling for development of mixed-use residential buildings, the 1716 Lofts project includes 48 apartments with over 2,500 SF of ground floor retail space and parking.

The housing element includes an enclosed, podium courtyard that acts as a passive retreat, configured to provide a central water feature flanked by two outdoor rooms. As gathering and conversation areas, these spaces are equipped with fire tables and lounge seating. A water wall greets visitors as they exit the elevator and directs them to the interior space, screened from 3rd floor windows by a bamboo green wall. Additional space on the rooftop includes a terraced garden, rooftop viewing room, a fire table lounge, outdoor kitchen, large sitting bar, TV lounge, and a multi-use activity space that can be used for community gathering, cooking, dining, sports watching, etc.