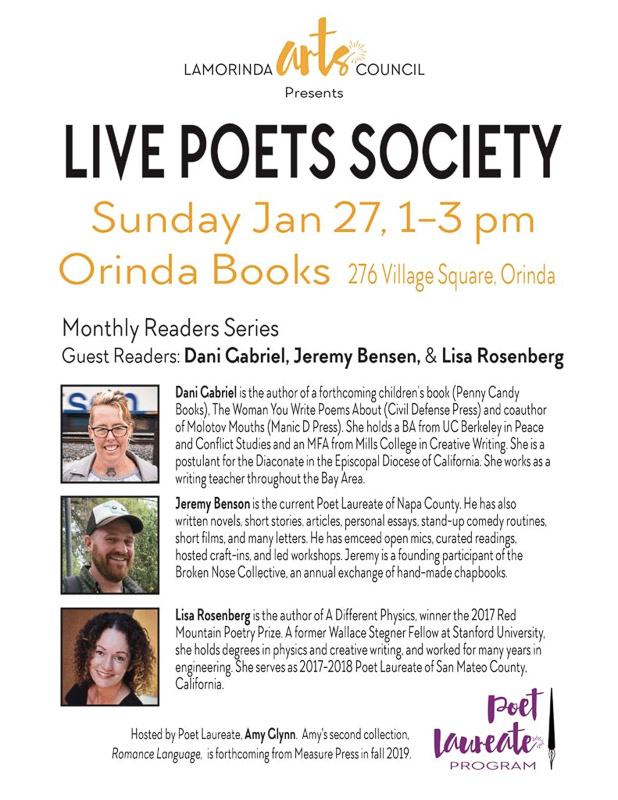 Live Poets Society:
Orinda Books
276 Village Square, Orinda
Sunday, January 27th, 2019
1:00 – 3:00pm | Free

Lamorinda Arts Council's Poet Laureate, Amy Glynn, is hosting the monthly Reading Series entitled "Live Poets Society" at Orinda Books 276 Village Square, Orinda. Each month the featured writers will delight guests with a reading of their creative writings.
The guest readers for January 2019 will be Dani Gabriel, Jeremy Benson and Lisa Rosenberg.
Dani Gabriel is the author of a forthcoming children's book (Penny Candy Books), The Woman You Write Poems About (Civil Defense Press) and coauthor of Molotov Mouths (Manic D Press). Jeremy Benson, the Poet Laureate of Napa Valley, has written novels, short stories, articles, personal essays, stand-up comedy routines, short films, and many letters. Lisa Rosenberg is the author of A Different Physics (winner of the 2017 Red Mountain Poetry Prize).